Series: Change My Mind
Change My Mind: Wrong Thinking Righted
May 23, 2021 | John Durham
Passage: Acts 11:1-18
ACTS 11:1-18 TO ACCOMPLISH HIS SOVEREIGN PURPOSE OF SALVATION, GOD HAD TO CHANGE WRONG THINKING IN HIS PEOPLE


GOD'S SOVEREIGN PURPOSE IS THE SALVATION OF PEOPLE FROM EVERY NATION.
- HIS SALVATION IS HIS MISSION AND HIS DOING, BUT GOD USES US IN THE PROCESS.
- IF WE'RE NOT FOR THE GOSPEL IN ALL NATIONS, WE'RE NOT INVOLVED IN GOD'S PURPOSE.
-THE LOCAL CHURCH SHOULD BE RACIALLY AND CULTURALLY DIVERSE.

IT IS EASY TO BRING WRONG THINKING INTO THE CHRISTIAN LIFE.
WRONG THINKING: HUMAN TRADITIONS ARE MORE IMPORTANT THAN BIBLICAL TRUTHS.
WRONG THINKING: THE CHURCH SHOULD CONSIST OF PEOPLE LIKE ME.
WRONG THINKING: GOD HAS TO DO THINGS MY WAY.
GOD CHANGES OUR WRONG THINKING SO THAT WE CAN JOIN HIM IN HIS WORK.
- GOD CHANGES US AS WE WALK WITH HIM.
-GOD CHANGES US BY PUTTING US IN UNCOMFORTABLE CIRCUMSTANCES.
-GOD CHANGES US BY REPEATING HIS LESSONS.
-GOD CHANGES US THROUGH HIS WORD.
-GOD CHANGES US BY REMINDING US THAT HE IS SOVEREIGN AND WE ARE LIMITED.
-GOD CHANGES US SO HE CAN USE US IN GREATER WAYS TO FULFILL HIS SOVEREIGN PURPOSE.
Series Information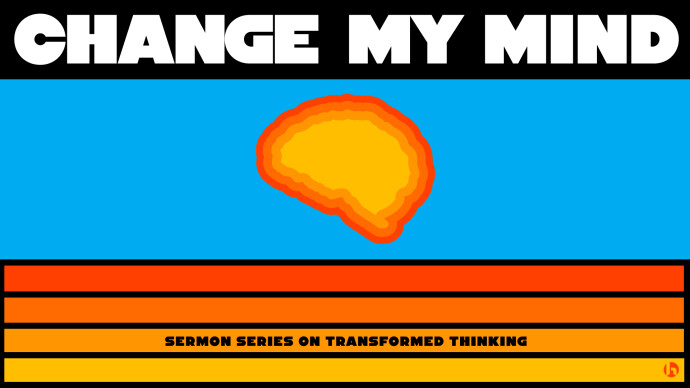 Our mind is a battleground when it comes to our faith. Every step toward Godliness and every step toward sin begins with a thought. Join us in this six week series as we seek to change our minds towards God.