Series: Abide
Abide: Bearing Fruit
January 30, 2022 | John Durham
JOHN 15:5-11
V11 should capture our attention. These things I have spoken to you, that My joy may be in you, and that your joy may be full. Here Jesus gives us insight how we can have and keep joy! Jesus stands in our midst this morning and says "I offer you a complete, full, lasting joy!" The key is vs5-10….FIVE THINGS

ABIDING = DRAWING LIFE AND STRENGTH FROM JESUS IN ORDER TO BEAR FRUIT IN A FAITHLESS, UNFRUITFUL WORLD.
ABIDE IN CHRISTV5 DOES CHRIST LIVE IN ME, AND IS HIS CHARACTER IN ME BEING SEEN BY OTHERS?
ABIDE IN CHRIST'S WORDS.V7Ask whatever you wish and it will be done for you.
IT'S NOT MY WISH IS GOD'S COMMAND, IT'S GOD'S COMMAND IS MY WISH.
ABIDE IN THE FATHER'S GLORYV8As the Father's glory is your growing desire you will continue to grow as a Fruit-Bearer

(Paul quite famously lists some of those fruit:

Gal 5:22-23

This is how you know you are attached to the living Vine.


ABIDE IN CHRIST'S LOVE9, 10. ultimately:WE DON'T WORK FOR GOD'S LOVE, WE WORK FROM GOD'S LOVE.
ABIDE IN OBEDIENCE TO GODAnd by obeying His Father's commands, He abided in His love
WE DON'T OBEY GOD FOR HIM TO LOVE US, WE OBEY GOD BECAUSE HE DOES LOVE US.
Series Information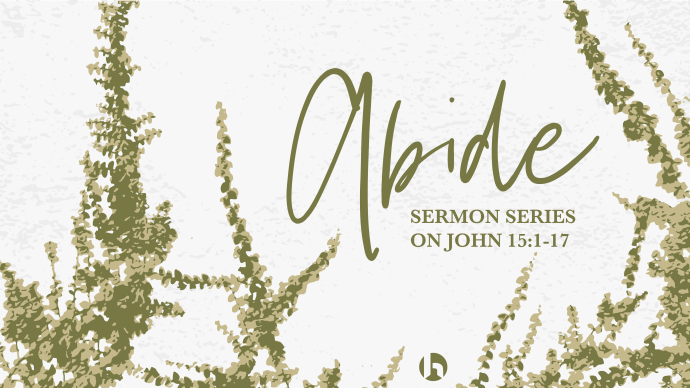 In this series, we will walk through John 15:1-17 and see what it means to abide in Christ.