Series: Abide
Abide: Chosen
February 13, 2022 | John Durham
JOHN 15:12-17
V12: First, the love Jesus speaks of is practical, not emotional. Jesus initiated this night with washing the disciple's feet John 13:3–5.
Second, we are called to echo the nature of Christ's love. Humility, sacrifice, patient, joyful
How does Jesus love us? How is His love practiced according to the nature of His love? V13
Vs14-15 great tension: HE IS LORD, AND HE IS YOUR FRIEND. We are His servants 14; but He has given us access into God's secrets 15.
V16 JESUS BEGINS THE REACH! HE BEGINS THE RELATIONSHIP. Ephesian 1:4-6 He chose us in Him before the foundation of the world, that we should be holy and blameless before Him. In love He predestined us for adoption as sons through Jesus Christ, according to the purpose of His will, to the praise of His glorious grace with which He has blessed us in the Beloved.
IT'S A GOOD THING GOD CHOSE ME BEFORE I WAS BORN, BECAUSE HE SURELY WOULD NOT HAVE AFTERWARDS. Spurgeon
JOHN 6:37-39
V16 appoint He purposed you, He set you to bear fruit. BEARING FRUIT = GOD'S CHARACTER AND PRESENCE IN YOU SEEN EXTERNALLY.
JESUS CALLS US INTO RELATIONSHIP AND PURPOSE THE TWO THINGS WE SEARCH FOR IN LIFE!
JOHN 15:5
Series Information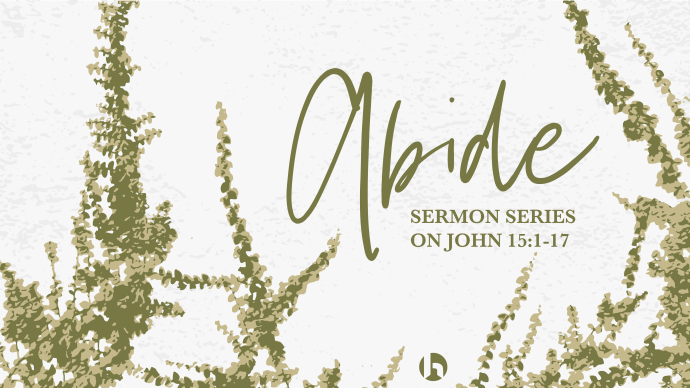 In this series, we will walk through John 15:1-17 and see what it means to abide in Christ.