Series: Abide
Abide: God's Unbending Purpose of Fruitfulness
January 23, 2022 | John Durham
How do we make my lives count for Jesus, Gospel? Jesus answers: JOHN 15:5 In John 15:1-11, Jesus describes the Christian life as a branch being fruitful. In John 15, we see how we bear fruit; it hinges on the claim Jesus makes I am the true vine. CHRIST AS THE TRUE VINE MEANS THERE ARE FALSE VINES.
BEARING FRUIT IS GOD'S CHARACTER AND PRESENCE IN YOU SEEN EXTERNALLY.

JOHN 15:2 no fruit, fruit, more fruit, 5 much fruit, 16 abiding fruit. Progression: God move us from no fruit, to fruit, to more fruit, to much fruit, to lasting fruit.
GOD'S ONE UNBENDING PURPOSE IS TO SHAPE YOU INTO THE IMAGE OF HIS SON AND THUS BEAR FRUIT THROUGH YOU! HOW? 3 things in this passage
GOD WILL SET YOU IN A PLACE TO BRING ABOUT FRUIT.YOU'LL NEVER FIND YOURSELF IN A PLACE WHERE GOD IS NOT. He'll never place you in a situation where He is absent..
GOD'S POWER THROUGH CHRIST WILL BRING ABOUT FRUITWithout Christ, we are failures and unfruitful.

BLESSED IS THE ONE WHO KNOWS THERE'S ONLY ONE GOD AND SO STOPS APPLYING FOR THE POSITION.
WHAT'S OUR ROLE?
ABIDE IN HIS WORD.V7

•

ABIDE IN HIS LOVE.

V9 •

ABIDE IN HIS JOY.

V11
JESUS HAS ZERO EXPECTATION OF YOU IMPRESSING HIM…JUST AN EXPECTATION OF YOU ABIDING IN HIM!
Series Information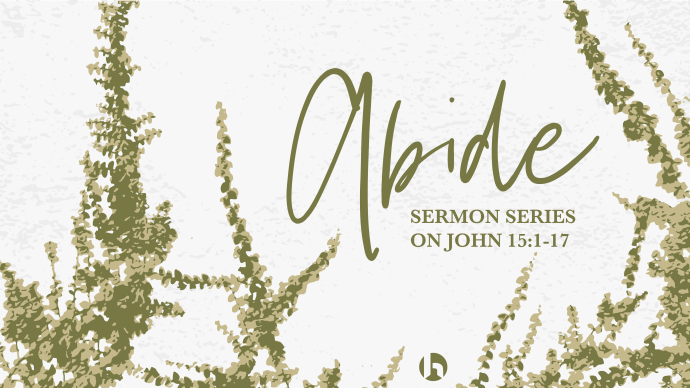 In this series, we will walk through John 15:1-17 and see what it means to abide in Christ.