Series: Abide
Abide: Love & Lordship
February 06, 2022 | John Durham
JOHN 15:9-15 As His time is winding down Jesus says: V9 and V12 It's a night of incomparable love that culminates the next day in the greatest act of love, the Lord giving up His life for us. V13
Go back to chapter 13 where it all started JOHN 13:1 He loved them completely.
Jesus is in the Garden (moments from betrayal) and He's praying to His Father – JOHN 17:25-26
WE HAVE TO DO SOMETHING WITH THIS WEIGHT OF LOVE You can't ignore,
REJOICE IN IT RECEIVE IT REJECT IT
In great love He says 15 elevated to level of being uniquely loved and trusted as Jesus' friend JESUS IS LORD, AND YOU ARE HIS FRIEND.
Jesus is Lord. Foundational confession of a Christian. Romans 10:9, if you confess with your mouth Jesus as Lord…
You are His friend. 14-15 Jesus identifies His followers as friends.
All of this in based in His love! VS9 abide in My love - stay in the place of My love. THE MORE LIKE CHRIST WE ARE, THE MORE OF GOD'S LOVE WE EXPERIENCE.


All of this they we may live in His joy. V11 I want you to receive this personally from Jesus himself: "These things I have spoken to you, that my joy may be in you, and that your joy may be full" (John 15:11). God intends that joy to be your joy. THIS IS WHAT IT MEANS TO BE A CHRISTIAN — TO EMBRACE THE WHOLE CHRIST
Series Information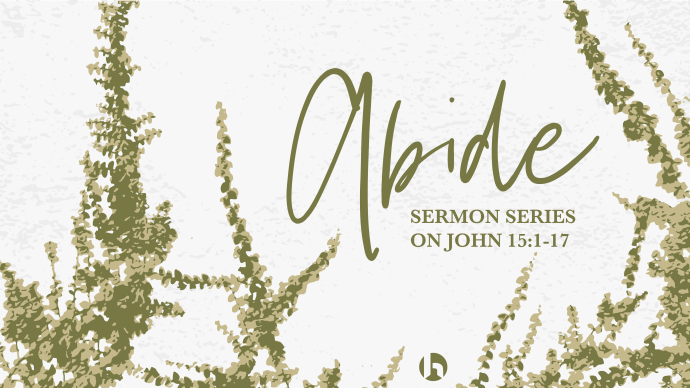 In this series, we will walk through John 15:1-17 and see what it means to abide in Christ.