Series: Change My Mind
Change My Mind: Foolish Thinking & Wise Thinking
May 30, 2021 | John Durham
Passage: 1 Corinthians 2:1-16
CHRISTIANS, OUR SOUL HAS BEEN CHANGED BY JESUS, BUT OUR FLESH BATTLES US CONSTANTLY. THAT BATTLE TAKES PLACE IN THE MIND
I CORINTHIANS 2, It's pretty clear that the theme of Ch 2 is spiritual wisdom—the wisdom that comes from God's Spirit! Scripture is showing us is the difference between thinking in God's wisdom vs. thinking in man's wisdom. There's a clear contrast!
FOOLISH THINKING
Living to Impress, V1. In fact, Paul was just the opposite of living to impress V3
Pretending to be Strong, V2-3. I wasn't trying to be something I wasn't.
Talking beyond actuality. You try to persuade with your words, but there's not power in your life. V4-5
Rejecting God's Truth V14 The foolish person is so focused on the wisdom of this world—pride, power—they have no room to receive truth from God. 1:18, For the word of the cross is folly to those who are perishing, but to us who are being saved it is the power of God.


WISE THINKING
Dying to self and status V5 Paul is saying this isn't about me…or my status or my power. V13
Centering all on Jesus Boast in Jesus.VS2 The wise trust in spiritual power, supernatural power…the wise trust in the name of Jesus
Receiving God's Truth V7 God decreed. God has spoken to us. He has decreed messages for us.
Walking with the Spirit VS8-12 Look at the benefits of walking with the Spirit Walking with the spirit means TIME LISTENING, TIME IN SCRIPTURE, HEART SURRENDERED.
TWO GREAT THINGS GRACED TO YOU AT SALVATION: THE HOLY SPIRIT AND 16 THE MIND OF CHRIST.
You have more than you know which is why you can think wiser than you do.
EVERY STEP TOWARD GODLINESS AND EVERY STEP TOWARD SIN BEGINS WITH A THOUGHT.
SO LET'S MOVE FROM "THINK/DO" TO "THINK/STOP/DO OR DON'T."
Series Information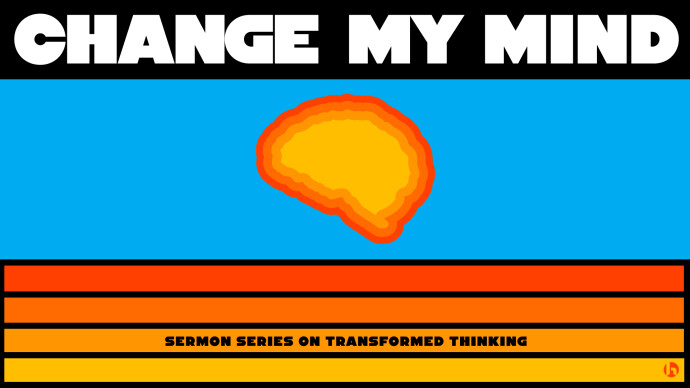 Our mind is a battleground when it comes to our faith. Every step toward Godliness and every step toward sin begins with a thought. Join us in this six week series as we seek to change our minds towards God.