Series: Change My Mind
Change My Mind: The Battle of Thinking
April 18, 2021 | John Durham
Passage: 2 Corinthians 10:3-5
EVERY STEP TOWARD GODLINESS AND EVERY STEP TOWARD SIN BEGINS WITH A THOUGHT.
That's the power of a thought!

PROVERBS 23:7 As a man thinks, so he is. THINKING DETERMINES OUTCOME.

2 CORINTHIANS 10:3-5 FOUR THINGS TO KNOW ABOUT THINKING
V3❶ OUR BATTLES AREN'T PRIMARILY PHYSICAL.

5 MENTAL BATTLES THAT SEEM LIKE PHYSICAL BATTLES:
Behavioral problems (anger/abusive/impulsive/addictions)
Financial problems (overspend, overworry, or overstash, overestimate it's joy)
Relational problems (pull away/selfish/deceitful)
Attitudinal problems (negative, pessimistic, petty, arrogant, apathetic)
Moral problems (is it better to sin and enjoy that pleasure or better to honor God and enjoy the joy of obeying God)



VS 3-4 ❷ MY WEAPONS FOR BATTLE ARE SPIRITUAL if you bring physical weapons to a spiritual battle, you are going to lose every time!

❸ DESTROYING DEEP-ROOTED THINKING IS DIFFICULT It takes 4 divine power, our minds are battling strongholds and the goal is to destroy them.

V5❹ EVERY THOUGHT THAT IS COUNTER TO GOD NEEDS TO BE ARRESTED

argument = the defensive reasons I do what I do. 5 Lofty opinion = puffed up, arrogant thoughts. 5 Anything raised against the knowledge of God. anything Godless, anything counter to God



To live differently, you must think differently.

To think differently, you must take arguments, opinions, Godless thoughts to Jesus.

To do this, you'll need to know Jesus
Series Information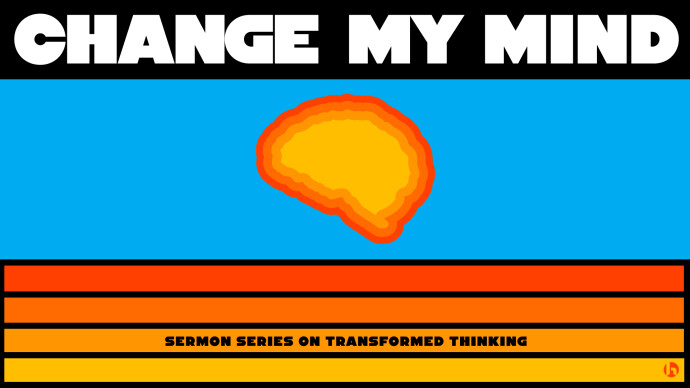 Our mind is a battleground when it comes to our faith. Every step toward Godliness and every step toward sin begins with a thought. Join us in this six week series as we seek to change our minds towards God.