Series: Where There's Smoke
Where There's Smoke: Anger
March 14, 2021 | John Durham
Passage: James 3:13-18
FEW CHRISTIANS KNOW HOW TO MANAGE ANGER, SO WE JUST PASS IT ALONG!
GODLY ANGER OFTEN RISES WHEN OTHERS AREN'T GETTING WHAT THEY DESERVE …AND IT'S CONSTRUCTIVE. EPH 4:26, be angry…but don't sin!
UNGODLY ANGER OFTEN RISES WHEN WE DON'T GET WHAT WE'RE SURE WE DESERVE…AND IT'S DESTRUCTIVE.

JAMES 3:13-14 Wise people are always humble. HOW MUCH OF MY ANGER IS ABOUT MY SELF-CENTEREDNESS?
JAMES 3:15-16 HOW MUCH OF MY ANGER IS ABOUT ME NOT HAVING WHAT OTHERS HAVE?
WHAT'S INSIDE OF YOU IS COMING FOR YOU AND FOR THOSE AROUND YOU!
JAMES 3:17 DEALING WITH ANGER BIBLICALLY, 4 Things:
1. YOU HAVE PEACE ON EARTH WHEN YOU HAVE PEACE WITH THE GOD OF HEAVEN.
JAMES 3:18 2. PLANT SEEDS OF PEACE WHICH DO EVENTUALLY GROW INTO A HARVEST
JAMES 4:1 3. ASK GOD TO DO MORE WORK IN YOUR HEART THAN THE HEARTS OF OTHERS.
JAMES 4:2 4. THANK GOD FOR EVERY GOOD THING HE HAS GIVEN YOU. What if the opposite of anger wasn't peace, but gratitude?
Who is our example in this? PHILIPPIANS 2:5-8
Series Information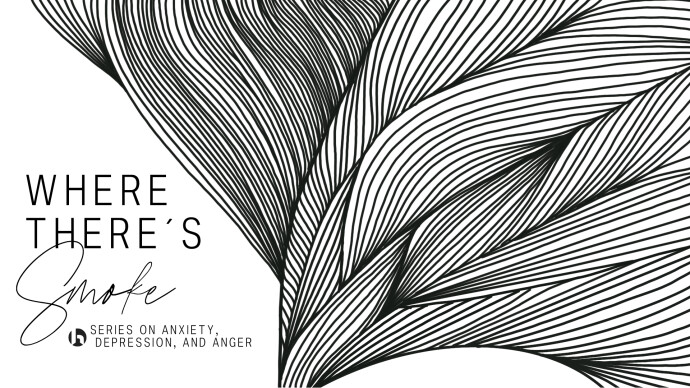 Where there's smoke, there is fire. In this sermon series, we will discover what the Bible has to say about depression, anxiety, and anger.