Series: Where There's Smoke
Where There's Smoke: Depression
February 28, 2021 | Drew Humphrey
Passage: Psalms 77:1-9
SYMPTOMS OF DEPRESSION (Psalm 77:1-5)
Verse 1

– Deep anguish

Verse 2

– No comfort or relief

Verse 3

– The very thought of God is hurtful instead of helpful

Verse 4

– Insomnia

Verse 4

– Isolation from others

Verse 5

– Consumed by the "good old days"
DEPRESSION DOESN'T ALWAYS HAVE A SPIRITUAL

CAUSE BUT DEPRESSION IS ALWAYS DEEPLY AND PROFOUNDLY SPIRITUAL.
THE

RESULTS OF DEPRESSION ARE SELFISH THINKING AND FALSE THEOLOGY (Psalm 77:6-9)
What Won't Work? — ESCAPISM.

ESCAPISM WILL MAKE YOU BUSIER BUT IT WON'T MAKE YOU BETTER.
BIBLICAL PRESCRIPTIONS FOR DEPRESSION: (PSALM 77:10-20)
Lift your eyes off of your life, and onto God's Kingdom

Proverbs 23:7 "For as he thinks within his heart, so he is."
Great heaviness must be countered by a great reliance on others

"Things don't simply happen to us. When they do, we respond with immediate interpretation of their meaning and significance. We filter the events through our view of God, others, and ourselves that we have been developing for our entire lives.
Remember who God is, and what He has done

His praise is a prescription for the darkness that is weighing him down.
"… though Your footprints were not seen, you led your people like a flock…" Psalm 77:19-20
Series Information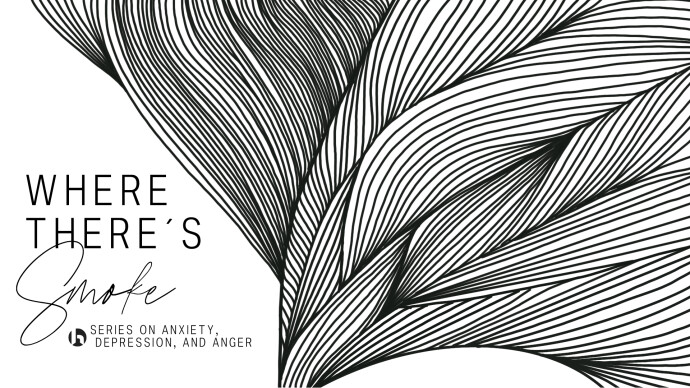 Where there's smoke, there is fire. In this sermon series, we will discover what the Bible has to say about depression, anxiety, and anger.