Series: Everything Matters
Everything Matters: Living Wisely Under Authority
October 10, 2021 | John Durham
LIFE IS A GIFT, NOT JUST A CHASE FOR GAIN
ECCLESIASTES TELLS US TO WALK, BUT EVERYTHING AROUND US TELLS US TO SPRINT.
ECCLESIASTES 8:1 WISDOM IS SUCH A PRIZED TREASURE THAT IT CHANGES EVERYTHING ABOUT YOU!
ECCLESIASTES 8:2-6 He gives 5 POINTS of wisdom in interacting with authority
Above all honor Godv2
Remember that authority is God-given and has power.v4
Pick your battles prayerfully.v3
Don't participate in ungodly movements.v3
Watch for God's time to do the right thingv6
ECCLESIASTES 8:7-9 WORK ON THE THINGS YOU CAN CONTROL, REST ON THE THINGS YOU CAN'T
ECCLESIASTES 8:10-13 MEN MAKE WATCHES, BUT GOD MAKES TIME
ECCLESIASTES 8:14-17 ENJOY YOUR DAYS, ENJOY YOUR FAMILY AND FRIENDS, ENJOY YOUR MEALS, ENJOY YOUR SLEEP, ENJOY YOUR WORK, AND PRACTICE FOR THE KINGDOM WHEN ALL WILL BE WELL FOREVER!
Series Information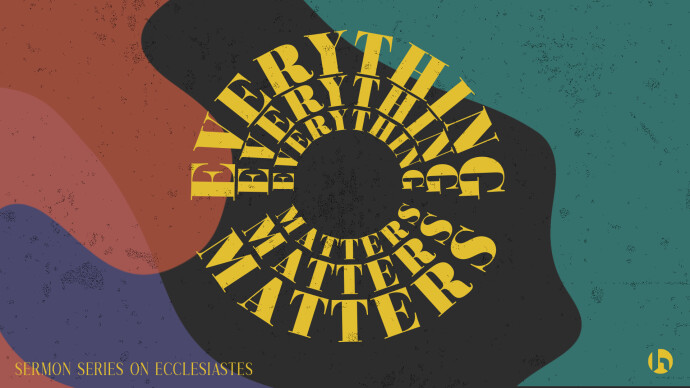 In this series, we seek meaning by looking at one of the most difficult books of the Bible to understand - Ecclesiastes. What we find is that a life spent in pursuit of pleasure, achievement, and control eventually leaves us empty.