Series: Everything Matters
Everything Matters: The Purpose of Every Season
September 12, 2021 | John Durham
The 3 biggest existential questions of man ORIGIN, MEANING, DESTINY How you answer those 3 questions determine how you view/live life!
Ecclesiastes 3:1-8 The big idea of that passage is that life has chapters/1 seasons
GOD NEVER WASTES EVEN ONE SEASON OF OUR LIVES
9 Solomon returns to this theme of purpose. 10 God has given us the business/task/NIV burden of living.
11b God put in us a desire to know eternal things
11a GOD USES EVERYTHING - BENDING IT ALL BACK TOWARD HIS WILL, HIS BEAUTY, AND OUR GOOD.
FOUR FOUNDATIONS THAT STABILIZE OUR LIVES
GOD IS PERFECTLY WISE.V1, V11a
GOD IS ABSOLUTELY MYSTERIOUS11God has one plan from beginning to the end.
Charles Spurgeon -

Mighty men are intent upon defending a lion. O fools, and slow of heart! Open that door! Let the lord of the forest come forth free. Who will dare to encounter him? What does he want with your guardian care? Let the pure Gospel go forth in all its lion-like majesty, and it will soon clear its own way and ease itself of its adversaries.

Why is there evil in a word God created?

Vs16-17
ENJOY THOROUGHLY THE GIFT OF LIFEVs12-13,Vs

19-20 22

We cannot let what we cannot not know destroy what we can enjoy.
REST IN GOD'S ABSOLUTE SOVEREIGNTY14-15
Series Information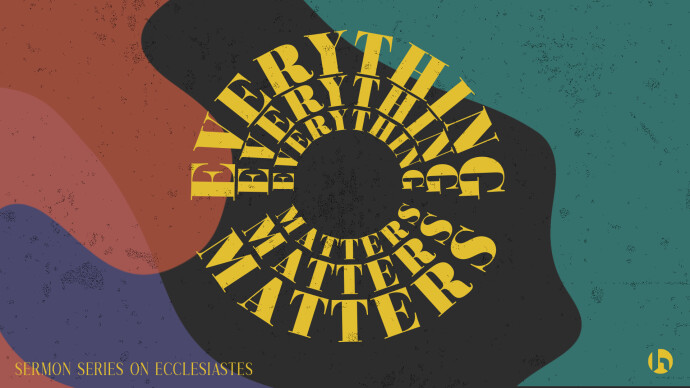 In this series, we seek meaning by looking at one of the most difficult books of the Bible to understand - Ecclesiastes. What we find is that a life spent in pursuit of pleasure, achievement, and control eventually leaves us empty.