Series: Everything Matters
Everything Matters: The Wisest of All Fools
August 22, 2021 | John Durham
MOST BOOKS IN THE BIBLE ARE PORTRAITS OF GOD, BUT IN ECCLESIASTES IT'S HIS SILHOUETTE.
You are not in control.
Life is short, death is real.
Difficult questions give us true, but difficult answers.
Ecclesiastes – let me give you an honest appraisal up front – it's a difficult book. But so is life!
High altitude theme: A LIFE SPENT IN PURSUIT OF PLEASURE, ACHIEVEMENT, AND CONTROL EVENTUALLY LEAVES US EMPTY. LIFE IS A GIFT, NOT JUST A CHASE FOR GAIN.
ECCLESIASTES 1:1
ECCL 1:2 Vanity/Meaningless/Empty/Futile
ECCL 1:3-7 A BUSY LIFE DOESN'T TRULY FULFILL US!
ECCL 1:8 THE WORLD'S PLEASURES CAN'T TRULY FULFILL US
ECCL 1:9-11 OUR GREATEST ACHIEVEMENTS WON'T FULFILL US.
IF WE LIVE OUR LIFE DISCONNECTED FROM GOD, THIS LIFE IS MEANINGLESS.
OUR SOULS ARE PARCHED, AND ONLY GOD SATISFIES OUR DEEPEST NEEDS.
Series Information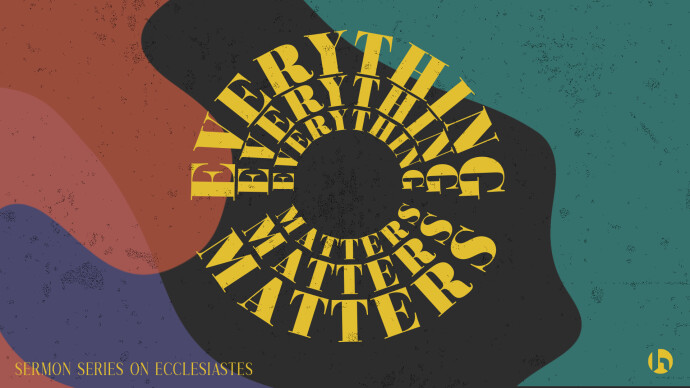 In this series, we seek meaning by looking at one of the most difficult books of the Bible to understand - Ecclesiastes. What we find is that a life spent in pursuit of pleasure, achievement, and control eventually leaves us empty.