Series: Everything Matters
Everything Matters: Worship & Wealth
September 26, 2021 | John Durham
V1 Solomon begins this chapter by speaking to worshippers. 1) Who do you live for? 2) Who's approval do you long for? 3) What do you live for? 4) What motivates you? 5) What defines you?
Vs2-3 – who I am to rush into God's Presence with a high word count and give Him my list of demands.
VS4-6 stressing to not make rash, foolish, or empty promises to God,
V7 THE DIVIDING LINE BETWEEN CONFIDENCE AND ARROGANCE IS THE COMPLETED WORK OF CHRIST

1-7: MEETING GOD IN WORSHIP IS TO INVITE THE KING TO RULE AND REIGN IN OUR LIVES.
10-20 2 KINDS OF RICH: RIGHTEOUS RICH AND THE UNRIGHTEOUS RICH
2 KINDS OF POOR: RIGHTEOUS POOR AND THE UNRIGHTEOUS POOR


V10-12 Unrighteous Rich and the Righteous Poor.
V13-17 THE LOVE OF MONEY MEANS YOUR HEART AND HOPE ARE IN YOUR WEALTH SO THAT YOUR IDENTITY, JOY, AND SECURITY ARE IN YOUR BANK ACCOUNT
GIVE THE FIRST FRUITS TO GOD, PAY YOUR BILLS, INVEST SOME WISELY, AND BE GENEROUS TO OTHERS.

VS18-20. ENJOY FOOD AND DRINK, WORK HARD, ACCEPT YOUR LOT IN LIFE, AND ENJOY EVERY GIFT GOD HAS GIVEN
Series Information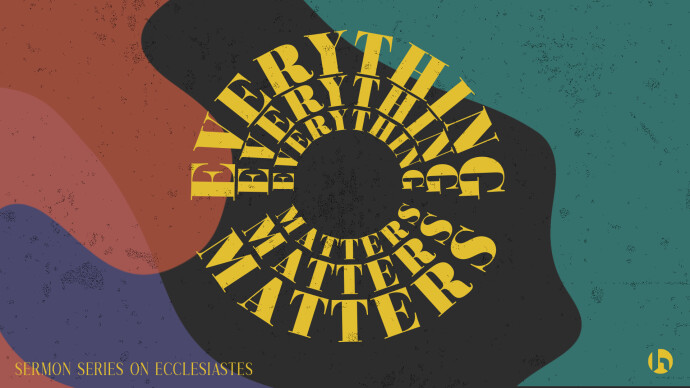 In this series, we seek meaning by looking at one of the most difficult books of the Bible to understand - Ecclesiastes. What we find is that a life spent in pursuit of pleasure, achievement, and control eventually leaves us empty.