Series: Finally Home
Finally Home: An Overview of Heaven
February 20, 2022 | John Durham
WHY STUDY HEAVEN, WHY SPEND 5 WEEKS CONSIDERING THIS TOPIC?
GOD BUILT US WITH AN INTERNAL SENSE OF THE ETERNAL.Ecclesiastes 3:11:He has made everything beautiful in its time. Also, He has put eternity into man's heart.

Aristides, a philosopher, wrote in 125 AD

And if any righteous man among them passes from the world, they rejoice and offer thanks to God; and they escort his body as if he were setting out from one place to another.
SCRIPTURE COMMANDS US TO THINK ABOUT HEAVENColossians 3:1-2

If then you have been raised with Christ, seek the things that are above, where Christ is, seated at the right hand of God. Set your minds on things that are above, not on things that are on earth.
"I pity the man who doesn't think about Heaven"– JC Ryle, Bishop of Liverpool
WHEN HIS FOLLOWERS WERE AT THEIR LOWEST PLACE, JESUS POINTED THEM TO THE HIGHEST PLACE.
JOHN 14:1-3
THE PLACE FROM WHICH JESUS HAD COME.
A PHYSICAL PLACEHeaven is called a country because of its vastness. Heaven is called a city because of its inhabitants. Heaven is called a kingdom because it has a King. Heaven is called paradise because of its beauty.

Listen:

Heaven is called a house because its family.
3.WHERE JESUS WAS GOING AND NOW IS.(where Christ is seated)


JESUS RECEIVES US AND WELCOMES US THERE.
A PLACE WHERE BELIEVERS GO AND TO LIVE FOREVER(greatest joy of heaven is Jesus)
Move to transformation. JOHN 14:4-6 How do I get to Heaven? Let me give it to you in 5 words: JESUS ONLY AND ONLY JESUS.
Series Information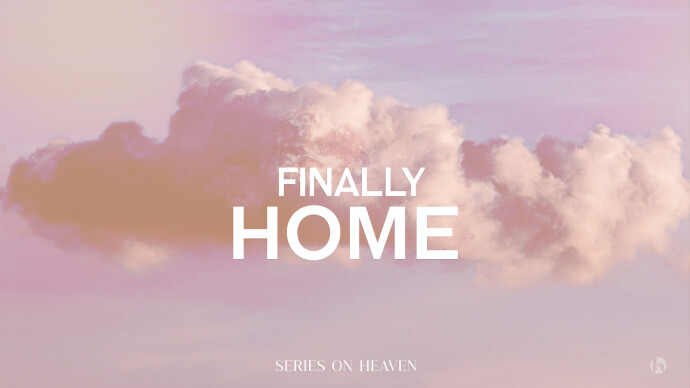 Is there a heaven? What will it be like? What will we be doing? All of these questions and more may have come across your mind. In this series, we'll find out what the Bible has to say about heaven.